Course details
【Women's Party Limited Course】 3 hours with all you can drink 8 items 3500 yen!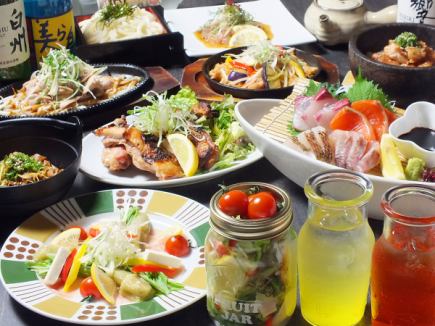 By using a coupon3500 yen
All-you-can-drink available

All you can drink is 3 hours.
Available days for reservation

Monday - Sunday - Public holidays - Holidays
Course menu
【Course content 4 people ~ example】
* All-you-can-drink all-you-can-eat 3 hours in a group of women OK ♪
January only
1. Fresh fish and tofu salad
2. Umeishi and Shikako's rolled winding
3. Bamboo shoots
4. Boiled chicken with Nishikyo cream
5. Roasted basil with squid, scallops and asparagus
6. Kimchi spring roll and fried potato
7. Seafood Kimchichige Udon
8. Maple ice
※ The contents of the menu has been changed from time to time.
※ Other contents can be changed according to customer's request
All-you-can-drink menu
· Beer / Sake
· Barley <barrel>, The Malts (medium bottle) / sake, cold wine
· Shochu / Highball
· Mohsuki (Class A), Fluffy Miramori [Lychee] [Acerola], Wanko (wheat), Nanko (Potato) Angle High Bowl, Angle Hicola, Angle High Yuzu, Angle High Plum, Jim Beam High Ball Jim Beam Cola, Jim Beam ginger
·Plum wine
· Minami Takashi plum, Yuzu plum wine
·sour
· Loafy white sour, Loamy cider sour, Loam, Grapefruit, Plain, Clearly tomato, Salted plum, Minami high plum wine, Giant peas, White peach liquor, Yuzu sake, Sikhua sake sake, Acerola rosehip sake, Ripe apricot sake
· Cocktail 1
· Mojito, Jim Buck, Vodka Soda, Orange Blossom, Moscow, Screwdriver, Bulldog, Fuzzy Noble
· Cocktail 2
· Cassis (Soda · Orange · Grapefruit · Beer) Peach (Soda · Grapefruit · Doll · Oolong), Shandigafu
· Non-Allowed Drink
· All Free, All Free Collagen, Shirley Temple, Virgin Breeze, Rothlabios, Pink Lemonade
·Soft drink
· Oolong tea, cola, gingeraele, calpisoda, calpis, orange juice, grapefruit juice
· Glass wine
·Red and white
Coupons that can be used with this course
2019/01/12 update